Design Guide to Drawing a Base Plan:
Making a Property Map for HOA Approvals
Did you know that you have a legal obligation to adhere to the covenants, conditions and restrictions (CC&R's) of a condo or homeowners associations when you move in?
When it comes to landscapes guidelines, HOA rules often provide guidelines for:
Planting type, coverage, and maintenance

Front yard fixtures like mailboxes and flags

Fences and walls, including materials and height

Common amenities like pools, patios, or storage sheds

Play features like swing sets or tree houses

Sports courts and features

These rules intend to establish expectations of their homeowners, protect property values, and ensure efficient operations of shared costs (like garbage removal or community pool upkeep). Making landscape improvements without HOA approval can result in hefty fines or removal of new enhancements.
Many Homeowners Associations require a plan of proposed landscape changes drawn to a measurable scale. This handy guide will walk you through the first big step: drawing a base plan. From here, you'll be able to implement improvements more accurately and efficiently, according to your budget and schedule, knowing that each step will fit together to make a beautiful space.
Where to Start
You'll finish with a basic plan of your property — your "Base Plan" — a plan looking down at your yard from a bird's eye perspective.
With this, you'll better understand where elements of your yard should be, and whether new features will fit in your outdoor space. You'll also steer clear of areas that are unsuitable or unsafe to build in.

These questions will guide you through the process of making a plan of your property as if drawn from a bird's-eye view. You'll find blank graph paper and a sample plan at the end of this guide.

Step 1: You'll save time if you have an existing site plan of your property. This may be from your builder, or available at city or county offices (in person or online). Your home exists on 'assessors maps,' which are usually included with ownership documents. You may also have a 'deed map' or 'property survey' from your property purchase. Local city and count offices may provide a "plat map."
These maps indicate the dimensions of your property, where your home sits in relation to property lines, and underground utilities and easements. If a map isn't available, try finding your property online through a program like Google Earth.

Step 2: What shape is your property? Use a long tape measure to note general distances between major elements.
✎ Record the general distances between major boundaries and elements of your property. Measure fences or property lines, edges of structures, and large trees (rounding to the nearest foot).
Work out-to-in: measure distances by starting at the fence or property line to increase accuracy. Run the tape measure from each boundary line to the structure or feature you're measuring, and record that measurement. Enlist a partner or friend to help.
Of course, no property is this simple! Angles, jogs, and other distinctive features specific to your yard can be measured and recorded in the same way.
Step 3: Start drawing your property outline and features to scale on the grid paper provided. Many landscape plans are drawn to a scale where 1 inch = 10 feet; larger lots may need a scale of 1 inch = 20.
✎ Drawing to Scale
To have a realistic idea of what will fit properly in your space, use an engineer's scale (like these) to draw your plan to scale. The numbers represent how many feet are in an inch, meaning that the small lines in between the whole numbers represent individual feet.
Try using the "10" side of the scale — one inch of paper will represent 10 feet of real space:

Step 4: Mark any important parameters — like fences, utilities, easements, etc. — onto your property Base Plan.
✎ Mapping Existing Property Information
Referring to an existing map of your property, if available, is the best place to start. Locate overhead power lines and underground service pipes on your Base Plan so you can take care not to disturb utilities. Also mark water hookups, electricity sources, and drainage outlets — these notes will help guide irrigation and power connections, and control water flow across your property.
Step 5: What features were important to keep as-is? Consider mature trees, structures like sheds and gazebos, or existing features like patios and decks.
✎ Draw important features to protect on your plan, showing them in the proper scale, if possible.

Step 6: Take a walk around and think about which features you'd like to remove or areas you'd like to change in your yard. Dilapidated storage sheds, unhealthy trees, underused patios, or non-functioning water features are common culprits.
✎ Mark features you'd like to change with an 'X'.

Step 7: Environmental factors will influence future designs. Sunlight affects plant choices or shade needs, for example, and wind directions matter when planning comfortable patios or locating new trees. To stay mindful of these influences,
✎ Identify the symbols below on your Base Plan to stay mindful of these influences.

Step 8: You should now have a solid starting point for planning future landscape improvements. Great! Be sure to make a few extra copies of your base.

If you're planning extensive improvements, consider hiring a professional land surveyor. Land surveys identify various features and elevations of the land — legal boundaries like property lines and easements, natural features like streams and trees, built elements like fences and buildings, and precise topography. Designers, contractors, and government permitting agencies will need this accurate information.

Be sure to check with your HOA about local standards and approval processes, and leave plenty of time for review periods (which tend to average 45 days). You'll likely need to submit an architectural application with a series of documents illustrating proposed changes. Building without approval may result in costly (and completely avoidable) fines. Your local board may also be able to help you find local professionals to help, as well as offer guidance on government permits you may also need.
Free Downloadables
Directions: Make sure your print settings are set to 100%. Do not scale to fit. Print on 11x17 tabloid size paper for best results.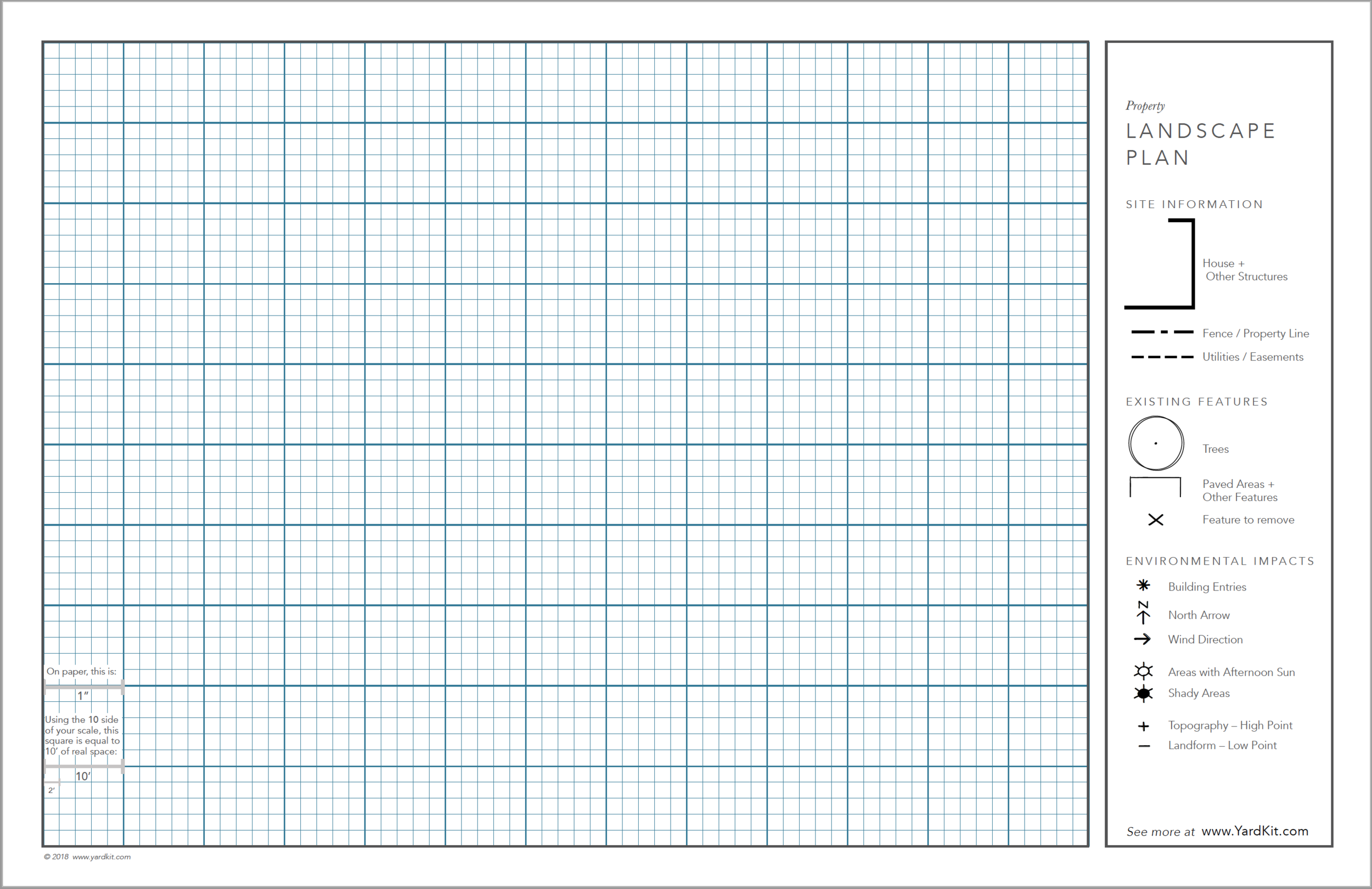 Draw your landscape plan on this blank sheet, with 1"=10"' scaled gridlines and a legend of key features.
Questions? We're here to help. Reach out at hello@yardkit.com to let us know how it's going.